You can import subscribers to CO-SENDER using a .xls, .xlsx, and .csv file. To make sure that all special characters in your file are recognized and displayed the same way as you see them, these files must be UTF-8 encoded – which normally they are. However, if during your file submission you can't see the subscriber data mapping window and your file is marked with red "X", then most probably it's because of the file encoding problem.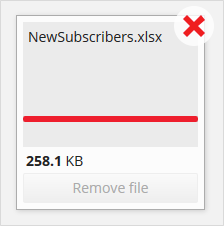 Encoding as UTF-8 can be done when saving your file. Every version of MS Excel is different, therefore exact UTF-8 encoding steps will be slightly different depending on the Excel version you are using, and also on whether you are working on a Mac or PC. But the basic steps required for this are when saving your file (or "Save As" when editing existing file) is to navigate to Tools > Web Options > Encoding, and then select "Unicode (UTF-8)" from the "Save this document as" drop-down menu.
If your Excel version doesn't support this encoding function, you may want to use a free OpenOffice application or Google Spreadsheets. These both allow files to be saved as UTF-8 encoded .csv or Excel files. Numbers for Mac is a paid alternative for Apple Mac users.