Very important aspect of list management is segmentation of your subscriber lists. When creating a segment, you are actually grouping your subscribers by certain parameters into subscriber subsets that can be used later to better target your campaigns.
To create a segment, go to "Subscribers" tab and choose the list you want to segment. Now scroll to the bottom of the page and click on "+ New Segment" button. The pop-up window, allowing you to create a segment, will open up.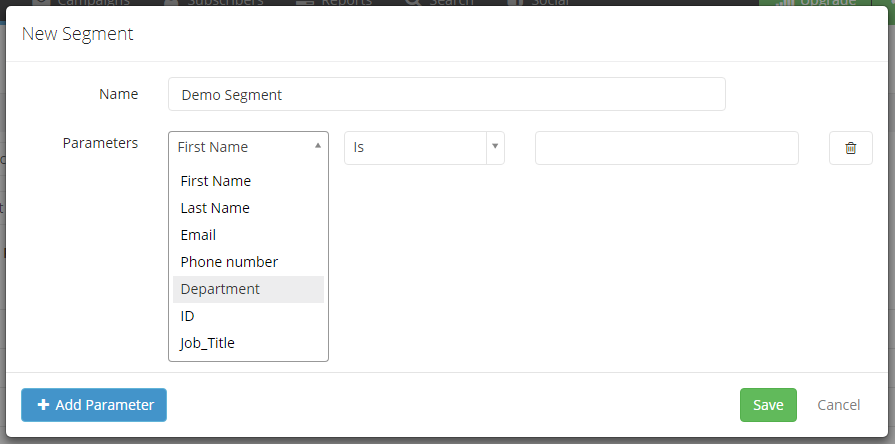 Enter a name for the new segment so you could remember what the new segment is for.
Click "+ Add Parameter" button to add a parameter to the segment.
From the drop down menu select a column from your subscriber list that holds parameter by which you want to segment your list (if you need to add additional columns to your subscriber list to hold a certain parameter to segment your subscribers, please check out the topic on Managing Additional Fields).
From another drop down menu select a rule that will be applied to filter the chosen column.

Lastly, enter a word, number, or any characters that will be used to filter the chosen column.
Click "Save", and the segment is ready to use!
Now, when creating a campaign, instead of emailing everyone on your subscriber list, you can choose to send campaign only to the filtered out recipients in the segment.
You can find this segment, as well as other segments you create for this list, listed in the bottom part of the window of any selected subscriber list.
Note that when creating a segment you can use more than one parameter to filter out your subscribers even further. For example, to create a segment that holds all the recipients in your list from "Marketing" department AND who's job title is "Consultant", you do exactly that – add to parameters to the segment:

Note that a segment can't be deleted after it has been used in a campaign. Also note that when you copy a subscriber list, all the segments in that list will be automatically copied and included in the new list.